And just like that, summer 2018 is a memory. It's a bittersweet transition for music fans because fall, along with its dark days and cold temperatures, brings with it a harvest of new albums.
This season, the list of releases includes a new album via a new label from Shad, debuts by Ralph and Lou Phelps, some exciting classical titles, and anticipated followups from the likes of Ryan Hemsworth, Metric, Erin Costelo and more.
To help you keep tabs on all the new music, we present our guide to the Canadian releases we think you need to hear for fall 2018, listed by release date.
---

Artist: Metric
Album: Art of Doubt
Release date: Sept. 21
Last year, Emily Haines took some time away from her band Metric to release a solo record titled Choir of the Mind. But, now she's teaming up again with her bandmates for a followup to 2015's Pagans in Vegas. On Metric's seventh full-length album, Art of Doubt, the band proclaims that "guitars are back in force," focusing on bottling their live rock sound into a thunderous album of stadium-sized anthems.
— Melody Lau
---

Artists: Ryan Hemsworth
Album: Everywhere
Release date: Sept. 21
The third album from Halifax-born, Toronto-based DJ Ryan Hemsworth, Elsewhere boasts a list of collaborators longer than the tracklist itself, including R&B artists Ambré Perkins (New Orleans) and Marco McKinnis (Virginia, Maryland), Afrobeat artist SK (London, U.K.), singer-songwriter Robin Dann (Toronto) and Daniela Andrade (Montreal). It's a sign that Hemsworth has spent the last years reaching out and collaborating with artists from all over — Elsewhere — to evolve his sound. "In my mind it was sort of making music everywhere except for at home and at the same time trying to sort of encapsulate a sound that I was hoping is my sound, you know?" Hemsworth told us via phone interview. Elsewhere is an album that'll satisfy longtime fans of his left-of-centre production ("Ego Ride") and fans who are really craving an R&B banger ("This Feeling" feat. McKinnis) — plus everything on the outskirts of it all.
— Holly Gordon
---
Artist: Lou Phelps
Album: 002 / LOVE ME
Release date: Sept. 21
Following his Juno-nominated 2017 debut, which featured the likes of Innanet James, Kallitechnis and his Polaris Prize-winning big brother Kaytranada, Montreal MC Lou Phelps is back with the followup 002 / LOVE ME. On his new collection, Phelps says via press release, "002 / LOVE ME is me telling relatable love stories that I have lived/imagined/fantasized about, it contains the good and bad and the ugly of a relationship." Fully produced by Kaytra, the new album's early cuts signal menacing production and rapid bars that could push Phelps out of the Canadian rap pack and into the forefront.
— Jess Huddleston
---
Artists: Ralph
Album: A Good Girl
Release date: Sept. 28
"Are you living for somebody else?" On the lead track for Ralph's anticipated debut album, the Toronto artist slides her previous fling-related singles asides for a second and sets things straight: she comes first. It's a message that could come off as trite, but the synth-pop artist will have you singing the run-on lyric "if you don't love yourself/ how the hell you gonna love someone else?" in just 90 seconds.
A Good Girl runs the gamut of relationships — with yourself or that new person — and Ralph makes sure the danceability factor is high on each track, whether you're bouncing to "Girl Next Door" feat. TOBi or swaying while you cry into your breakfast during "Cereal," a slow-tempo break-up jam featuring Montreal artists Milk & Bone. It's been more than a year of waiting for this debut full-length, and it was worth the drop in temperature. — HG
---

Artist: Tory Lanez
Album: Love Me Now? / El Agua
Release date: September 2018
While most artists ramp up their marketing leading up to an album release, Tory Lanez has taken the opposite approach by completely wiping his Instagram account. The release date for his latest album, Love Me Now?, was previously teased on the account as September, which leaves fans on edge waiting as the month draws to an end. With the ability to alternate between smooth, sultry vocals and tight bars, Lanez has a track record of creating infectious bangers, as proven by the bouncy single "Talk to Me" feat. Rich the Kid, which is off the upcoming album. Lanez has also been working on his Spanish album El Agua, and if his collaboration with Ozuna on "Pa Mi" is an indication of what's to come, then he's bound to drop some heat to warm up the winter. Considering the social media blackout, we expect Lanez to return with a bang!
— Natasha Ramoutar
---
Artist: Marie Davidson
Album: Working Class Woman
Release date: Oct. 5
It's been a busy year for Marie Davidson. The Montreal producer kicked off 2018 with an EP with her group Essaie Pas, which later spawned a remix EP that came out in June. Now, she's gearing up for another release, this time a solo followup to her 2017 Polaris Music Prize longlisted album, Adieux au Dancefloor. Working Class Woman is a reflection of her past year spent living in Berlin as well as the "stresses and strains of operating within the spheres of dance music and club culture," as her bio reveals. The result, as evidenced on the single "So Right," combines darkness and humour into something that you can also dance along to. — ML
---
Artists: OSM Soloists
Album: Schubert: Octet
Release date: Oct. 5
The OSM Soloists are back with the second in their trilogy of releases on the Analekta label. This time, the entire album is given over to Schubert's Octet, the ne plus ultra of large-scale chamber works. Scored for clarinet, bassoon, horn, two violins, viola, cello and double bass, the Octet's proportions verge on the symphonic at times, and the OSM's first chairs will do it justice with beautiful tone, precise ensemble playing and the right amount of bite. Make room in your collection for a new definitive recording of this essential work.
— Robert Rowat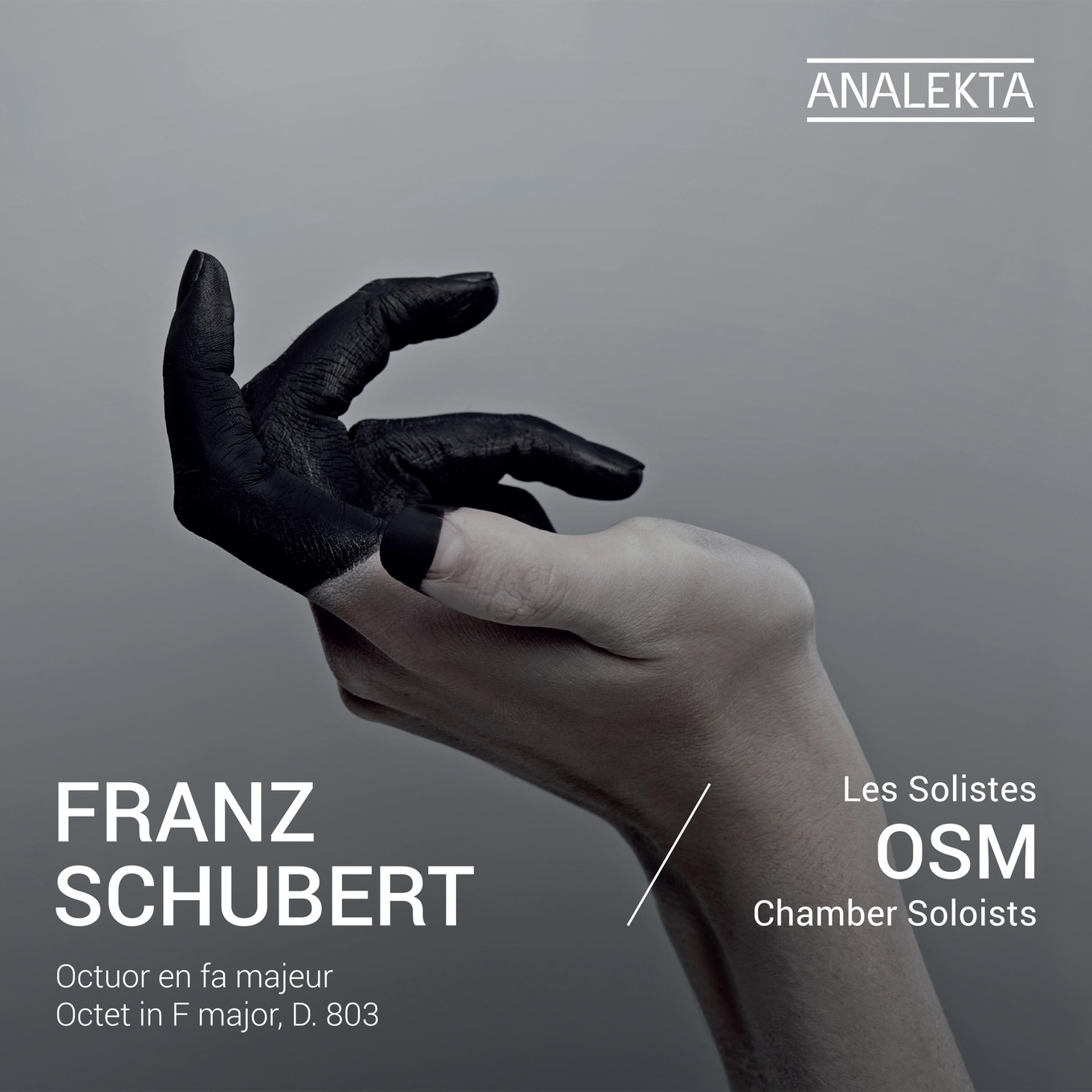 ---

Artists: Safia Nolin
Album: Dans le noir
Release date: Oct. 5
Safia Nolin refers to her writing as a "super depressive style," and while it's true that the Quebec City-born, Montreal-based singer-songwriter's failed relationships sit at the core of her writing, her expressive voice is perfectly suited to lead you through that heartache. Mainly in French, with one track, "Lesbian Break-up Song," sung in both English and French with La Force (a.k.a Ariel Engle, the newest member of Broken Social Scene), Dans le noir was written over a year and a half, then recorded and mixed in eight days in Saint-Zénon, Quebec's Studio Wild and produced by Nolin, Joseph Marchand and Philippe Brault. Whether you're bilingual or not, Nolin's second album breathes a life that you'll want to take in. — HG
Artist: F--ked Up
Album: Dose Your Dreams
Release date: Oct. 5
Four years after Glass Boys, Toronto punk band F--ked Up is back to continue the story of their albums' protagonist, David. On this album, which promises to fuse everything from psych-rock and hardcore to doo-wop and pop hooks, David is stuck at a desk job but embarks on a spiritual odyssey thanks to a woman he meets, named Joyce. It's a sonic and narrative adventure that only a band like F--ked Up can conjure, and we can't wait to dive head-first back into their universe. — ML
---
Artist: Art D'Ecco
Album: Trespasser
Release date: Oct. 12
You can't help but know that a star is being born upon hearing glam-rocker Art d'Ecco's anthemic first singles, and that in itself is a magical feeling. The forthcoming release was crafted in a serene cottage off the Gulf Islands of the Pacific Northwest — a setting that doesn't necessarily match d'Ecco's electric riffs, breathy falsetto and unmistakable costumery, all of which drip with big city swagger and audacity. But then again, maybe it was this foggy retreat that allowed d'Ecco to fully become this Ziggy Stardust-reminiscent character, and prepare for his mysterious emergence as one of Canadian rock's saving graces. — JH
---
Artists: Belly
Album: Immigrant
Release date: Oct. 12
It's been 11 years since Palestinian–Canadian rapper Belly released a full-length studio album. While the artist has accrued a number of accolades over the years — including winning Juno Awards and SOCAN Songwriting prizes, and being nominated for Grammy and Academy awards — his upcoming, politically charged project Immigrant may be the most important yet.
The decision to name his album Immigrant was announced shortly after Belly debuted his T-shirt line in July at the Family Separation Rally & March in New York. Belly planned to donate 100 per cent of the proceeds to the American Civil Liberties Union (ACLU) in support of the civil and legal rights of immigrants. He told fans on Twitter: "With everything going on, I can't sit by and say nothing. I decided to speak my truths." Set to be an intensely personal protest, Belly reminds us that even the act of existing can be political. — NR
While the tracklist has not yet been released, Belly has been keeping fans happy with his recent track "What You Want," featuring the Weeknd.
---
Artists: Erin Costelo
Album: Sweet Marie
Release date: Oct. 19
For Erin Costelo's newest album, the Halifax singer-songwriter set out to record 10 songs in 10 days. "It's a painful process making a record, and I needed to come up with some kind of a challenge that I had not had before," Costelo explains in the trailer for the documentary about the making of Sweet Marie, the resulting album. Costelo — who was the first woman ever to win producer of the year at the 2017 Nova Scotia Music Awards — set up a recording studio from scratch in a house in Little Harbour, N.S., and mainly recorded with musicians she hadn't played with before. Oft compared to Carole King and Mavis Staples, Costelo's voice has the sound of someone who has lived many lifetimes, experiencing a depth of emotion and range that a single person couldn't possibly carry. And on Sweet Marie, we are lucky to hear that voice again, sounding right at home. — HG
Watch Sweet Marie: In Studio with Erin Costelo, directed by Amelia Curran, via CBC's Absolutely Canadian.
---
Artist: Arkells
Album: Rally Cry
Release date: Oct. 19
The massive success of Arkells' 2016 single, "Knocking at the Door," has set some pretty high expectations for their upcoming album, Rally Cry. The Hamilton rockers stated their ambitions clearly — they want to become one of the country's biggest rock acts — and Rally Cry will have to deliver some stadium-worthy anthems in order to achieve this goal. Thankfully, songs like "People's Champ" and "Relentless" show that they have what it takes, so let's see what else the band has in store for us come Oct. 19. — ML
---
Artists: Matt Mays
Album: Twice Upon a Hell of a Time...
Release date: Oct. 19
If the title of Matt Mays' upcoming album sounds familiar, that's because it is: he released the first iteration, Once Upon a Hell of a Time…, exactly a year before this Twice album's Oct. 19 date. To consider it the same as that "party-rock record for the brokenhearted," though, would be a mistake. On Twice Upon a Hell of a Time, Mays has stripped down the bigger band sound for an acoustic offering that's filled out with support from musicians Aaron Goldstein (Daniel Romano, Lee Harvey Osmond) on pedal steel, Anthony Carone (Arkells) on piano, as well as guest singers Andrew Rodriguez, Kate Dyke, and Melissa Payne. Instead of a barn-stomping record, you're getting an introspective set of songs — and it'll have you rethinking a few things. — HG
---
Artist: Shad
Album: A Short Story About a War
Release date: Oct. 26
It's been five years since Shad's released an album (as Shad), and in this climate, there's no doubt we need his music now more than ever. On the album's first two sonically opposite singles, the London, Ont., native is a fearless crusader for freedom, peace and togetherness via his quick-tongued wordplay, giving us a glimpse into the societal dichotomies the new album will explore. Featuring contributions from Kaytranada, Lido Pimienta, Yukon Blonde and more, A Short Story About a War has the potential to contain some of Shad's most challenging and exciting art yet. — JH
---
Artists: Choir of the Church of St. Andrew and St. Paul, Petit Chanteurs du Mont-Royal, Julie Boulianne (mezzo-soprano), Philippe Sly (bass-baritone), Jonathan Oldengarm (organist), Jean-Sébastien Vallée (conductor)
Album: Fauré, Duruflé: Requiem
Release date: Nov. 16
Recordings of large-scale choral works are few and far between in Canada, so we're totally ready for this album pairing the two most popular Requiem settings by French composers. Expect a warm, robust sound from Montreal's Choir of the Church of St. Andrew and St. Paul, a professional ensemble with exceptional blend and complicity cultivated through weekly rehearsals and church services. The Petit Chanteurs du Mont-Royal add the appropriate treble colour to Fauré's "Pie Jesu" and Duruflé's "Libera me," while Julie Boulianne and Philippe Sly champion the famous solos. The organ arrangements of both Requiems are complex but Jonathan Oldengarm and the church's mighty Casavant are up to the challenge. Jean-Sébastien Vallée, a juggernaut in Canada's choral music community, conducts. — RR
Related:
'I never regretted leaving': Simone Denny looks back on the 20th anniversary of Love Inc.'s debut
2018 Polaris Music Prize: see amazing portraits of Weaves, Jeremy Dutcher and more
'They owned you for the season': Judith Forst recalls her 1968 Met debut
How women in music dominated at this year's Toronto International Film Festival