"It's a drug," admits Liz Upchurch about her job as director of the Canadian Opera Company's Ensemble Studio for the past 20 years. It's one of the premier opera training programs in North America.
"It's so addictive to work with ridiculously gifted people all day. Because the leaps that they make are so magnificent, and we get to not only help them and train them so that they're ready for those leaps, but we get to watch them do it."
We reached Upchurch recently to speak about Centre Stage, the COC Ensemble Studio's annual singing competition, taking place Thursday, Nov. 1, at the Four Seasons Centre for the Performing Arts in Toronto. The competition is the culmination of the Ensemble Studio's audition process: from a field of more than 120 singers who submitted video auditions, 76 were selected for a second round of live auditions that took place in Montreal, Calgary and Toronto. From these, eight finalists were selected to compete in the Centre Stage final and sing with the COC Orchestra under music director Johannes Debus.
First, second and third prizes are $5,000, $3,000 and $1,500, respectively, and while a competition win doesn't guarantee a spot in the COC Ensemble Studio, most first-prize winners have been accepted into the program the following season. New this year: CBC is offering the CBC Music Young Artist Development Prize, which includes a recording session and a national radio broadcast.
"Everybody likes to see the top talent. It doesn't matter what it is: golf, gymnastics, anything. I'm not a gymnastics fan, but if I watch somebody absolutely at the top of their game, I'm riveted," notes Upchurch, explaining the competition's popularity. "People who've never seen a competition in their lives, never been to an opera, are truly fascinated. Everybody understands the premise of competition: talent meets opportunity — who is going to be the best that evening?"
Mezzo-soprano Simona Genga, 1st prize winner at the COC's 2017 Centre Stage Competition, sings 'Le Spectre de la rose' by Berlioz with pianist Trevor Chartrand at CBC Toronto's Studio 211.
Until just a few years ago, the final stage of the auditions for the COC's Ensemble Studio were held behind closed doors. "When we decided to go public and make it a competition, rather similar to the Metropolitan Opera's, we first held it in the [150-seat] Richard-Bradshaw amphitheatre and we were simply busting out," recalls Upchurch. "I will never forget that final because there were people almost sitting on the laps of the pianists. They were surrounded! So, it was obvious very quickly that we had to move this [competition] into the main hall and it had to be with the orchestra."
As Upchurch explains, this move changed everything: "Because you're sending out a message to these young singers: If you want to do this, you've got to be ready to get up on the stage and sing to 2,000 people with a full orchestra and Johannes Debus in the pit. The pressure is so immense for them, but if you want to be an opera singer, that's what it's going to be.
"Opera singers spend most of their time 'off ice,' learning how to do it," she continues. "They spend very little time actually onstage with a full orchestra. But that's what you're aiming for. How many people get to practise in a space that fills 1,500 to 2,000 people every day? That is absolutely gold."
'He's impeccable'
Upchurch credits the 2,000-seat Four Seasons Centre for the Performing Arts with much of the Ensemble Studio's success during her tenure as director. Prior to 2006, the COC's performance venue was the 4,000-seat Hummingbird Centre, where it was practically impossible to present anything but grand opera. "You're not going to be casting too many young singers in really big operas, so there just weren't as many opportunities," she explains.
"Now, as a result of having such a great opera house, our programming is very different. We've done Handel and Mozart and Gluck and all of these operas that basically allow for younger singers to choose excellent roles — roles that are coming just at the right time to help them excel."
The other factor in the Ensemble Studio's success, according to Upchurch, is the COC's general director, Alexander Neef.
"He's impeccable, and it's not just the way he does business. It's his knowledge that's impeccable. When he first came onboard, he really helped build the company, but I wasn't sure how much interest he would have in helping to develop young singers because that wasn't part of his experience. And so, we've all grown together. He and I think very similarly about how you should nurture and develop young talent. His opinion is so sought after that it's not just young singers who look for his advice. It's also people really at the highest level who sit down with him and say, 'OK, I'm 50. What are the next steps?' And so, you've got the Sondra Radvanovskys, the Adrianne Pieczonkas, the Russell Brauns, the Gerald Finleys, and he sits down with them and helps them figure out the next few years. This is somebody who truly understands what it is to develop voices."
'There isn't a school in the world that can prepare you for what we do here'
What the public sees at the competition is actually only a fraction of the Centre Stage experience for the eight finalists.
"We bring them into the company to work with us for four days," says Upchurch. "They work with me, they work with my head vocal consultant Wendy Nielsen, they work with Alexander Neef, they work with Johannes Debus. They go off and they get their dresses organized and sorted out. They get put up at the Hilton, which is right across the street from the Four Seasons Centre. And this not only gives them the chance to calm down a bit and get into a rhythm, but it also gives my team — and I have a very large, amazing training team, which has taken me nearly 20 years to cultivate, honestly — but it gives us a very good sense of the kind of person we're dealing with and the personality."
All of this helps Upchurch know whether a singer is ready for the challenges the Ensemble Studio offers. "It's a two-year program, it's so intensive, there isn't a school in the world that can prepare you for what we do here. We have a joke in the Studio: we say one week in the studio is like a year at college anywhere else. Because so much happens."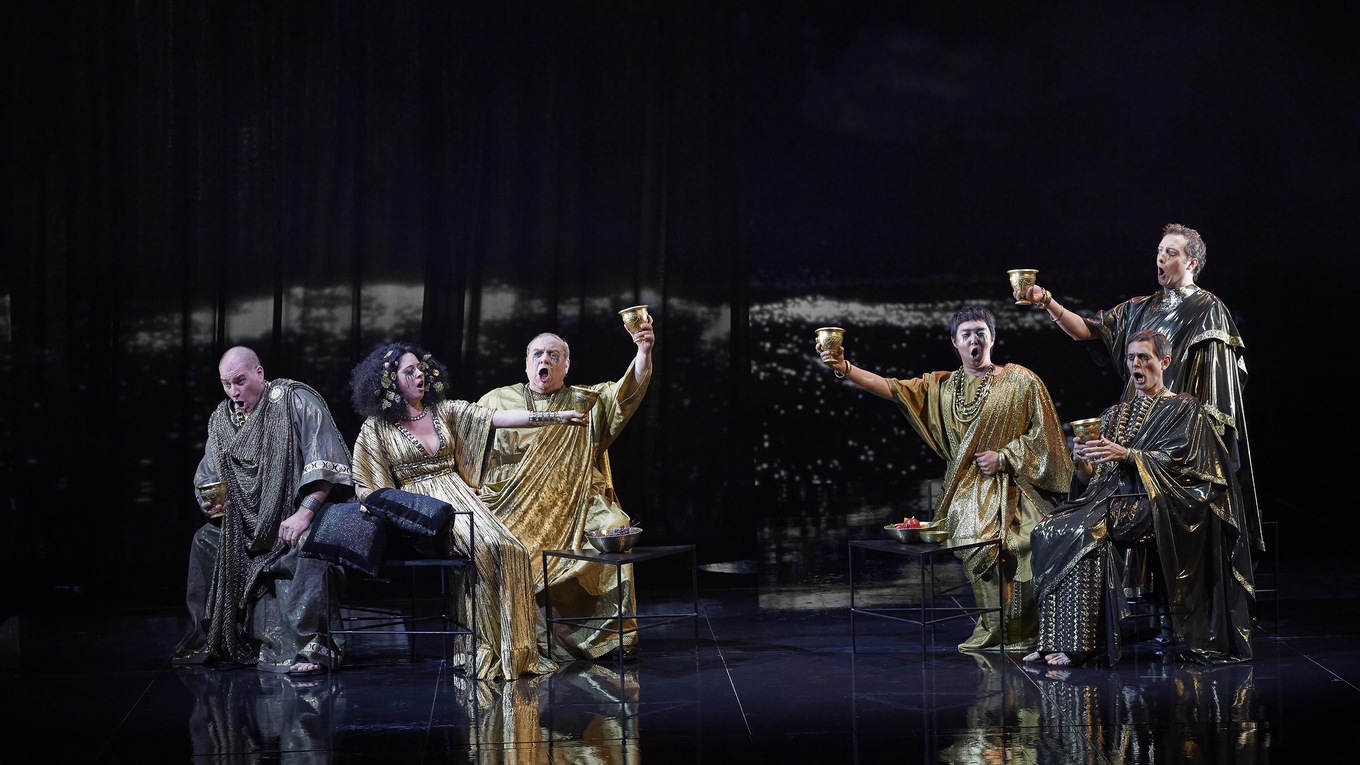 Ensemble Studio members Anna-Sophie Neher (2nd from left), Samuel Chan (3rd from right) and Joel Allison (right) perform in the COC's production of Rufus Wainwright's Hadrian. (Michael Cooper/COC)
The success of the Ensemble Studio members is Upchurch's reward, which she illustrates with an anecdote:
"Baritone Gordon Bintner was understudying Russell Braun as the Count in Mozart's Le nozze di Figaro. If you're an understudy, you normally get a call at 1 p.m. on the day of the performance or a big rehearsal saying everything's fine. So, everything was fine, we hadn't heard anything, and Gordon was in a big meeting. It was a quarter to five on the day of the dress rehearsal, and the stage manager ran in and said, 'Gordon, Russell is really, really sick and you're going to have to go on.' Two-and-a-half hours later, he went on that stage and you wouldn't have known that he came in last-minute.
"To watch somebody do that, and see that yes, this is somebody who's going to play the Count for the next 20 years, and we've just witnessed his very first one, it's a marvel. That is the drug, that's it. It's to watch people really succeed in this amazingly extraordinary and large art form."
The COC present its Centre Stage Competition on Thursday, Nov. 1, at the Four Seasons Centre for the Performing Arts in Toronto, featuring eight aspiring opera singers from across Canada. For more information, head over to the COC's website.
Related:
How will people react to Rufus Wainwright's new opera?
'They owned you for the season': Judith Forst recalls her 1968 Met debut
Hand-selected opera gems by the most celebrated dramatic tenor in the world, Ben Heppner. The most familiar arias from the most-loved operas of all time along with opera overtures, intermezzi and choruses. Performances combine the great voices of the 20th century with today's rising stars!