He's one of Canada's greatest songwriters, a legendary storyteller whose taken inspiration from some of the unlikeliest places, and whose iconic tracks are considered foundational to the country's musical canon.
We're talking about Orillia's son, the great Gordon Lightfoot, who celebrates his 80th birthday on Nov. 17. In honour of this milestone, CBC Music has taken a deep dive into Lightfoot's remarkable life. Scroll down for these 10 things you need to know about one of our favourite artists.
---
1. Lightfoot was encouraged to pursue music by his mother. He began performing as a choirboy, and made his first appearance at Toronto's famed Massey Hall when he was 12 after winning a singing competition. In high school, Lightfoot also sang with a barbershop quartet called the Teen-Timers.
2. Throughout his teen years, Lightfoot taught himself piano, percussion and guitar before moving to California in 1958 to study jazz composition and orchestration at Hollywood's Westlake College of Music.
3. By 1960, he was back in Ontario and following a brief stint in the square dance ensemble, the Singing Swinging Eights, Lightfoot began releasing folk singles and playing in Toronto coffee houses. In 1963, he spoke with Alex Trebek on CBC's Music Hop about writing folk music.
4. A 1963 trip to Europe found him with his first full-time television gig, hosting BBC TV's Country and Western Show, before returning again to Canada in 1964.
5. Lightfoot's songwriting prowess got him noticed after he penned Ian and Sylvia's hits "Early Mornin' Rain" and "For Lovin' Me," which in turn sparked covers by Peter, Paul and Mary, Elvis, the Clancy Brothers, Judy Collins and others. But he does have some regrets about some of his earliest songs: "I learned a lot of things from the many women I met. One of the things was, don't write songs that are chauvinistic. And boy, I wrote a couple at the start, like 'That's What You Get for Loving Me.' Oh my goodness, I'll never write another song like that. That one taught me a lesson. It really did. Others still sing it, but I won't anymore."
6. In 1965, Bob Dylan's manager signed Lightfoot and then mega studio United Artists came calling. His debut album, Lightfoot!, followed the next year. More than 30 years later, his friend Bob Dylan inducted Lightfoot into the Canadian Music Hall of Fame, calling him "a rare talent and all that."
7. The CBC commissioned "Canadian Railroad Trilogy" for Canada's Centennial in 1967.
Lightfoot spoke about it with the UC Observer in 2013.
I went down to the CBC to Bob Jarvis's office, and he said, "Gord, I want you to write a song for a special TV show that we're going to do on New Year's Day, 1967. I want it to be about the Canadian railroad. Go to the library, right now, and get a book by Sir William Cornelius Van Horne." I got the book, read the book and wrote the song.

The song was done very quickly. I went back to the CBC, where I had been a week before, walked in and sat down at Bob Jarvis's desk. I played [the piece] with my 12-string. He said, "Gordon, I'm impressed."

Coming from Bob Jarvis, that was something. He was one of the really good producers at CBC, an important guy. And so I said, "Fine, when do we start?" He said, "We're going to do it next week." They came in with a 15-piece orchestra and we went in and recorded it in two hours, and that's the track we used on the television show.
8. In a 1970 interview with the Georgia Straight, reprinted via RocksBackPages.com, Lightfoot talked about his role as a "Canadian writer."
Rick McGrath: Do you still think of yourself in any way as a Canadian writer?
Lightfoot: Yes, I think so. I am a Canadian.
McGrath: Do you get your material from Canadian situations?
Lightfoot: No, I get them from life in general, I believe. I mean, I consider myself to be a part of the overall music scene. I don't have any hangups about Canadians being oppressed and talent being held down. The only problem we have here is an enormous influence from the U.S. on all sides. And how can you fight against that kind of strength? I mean, well let me be more explicit: you have a 4,500-mile border and it goes alongside the most powerful country on Earth. They're putting out this mass of product, which also includes the music bag. So they're beaming in across the border with their radio stations and everything, so how are you going to fight that? So, it gives Canadians a complex to have that happening, not only in the music business, but all business in Canada. We're very heavily influenced.
9. Lightfoot was honoured by Canada Post in 2007. "I thought it was rather nice — they were very polite when they asked me to consider it," he said.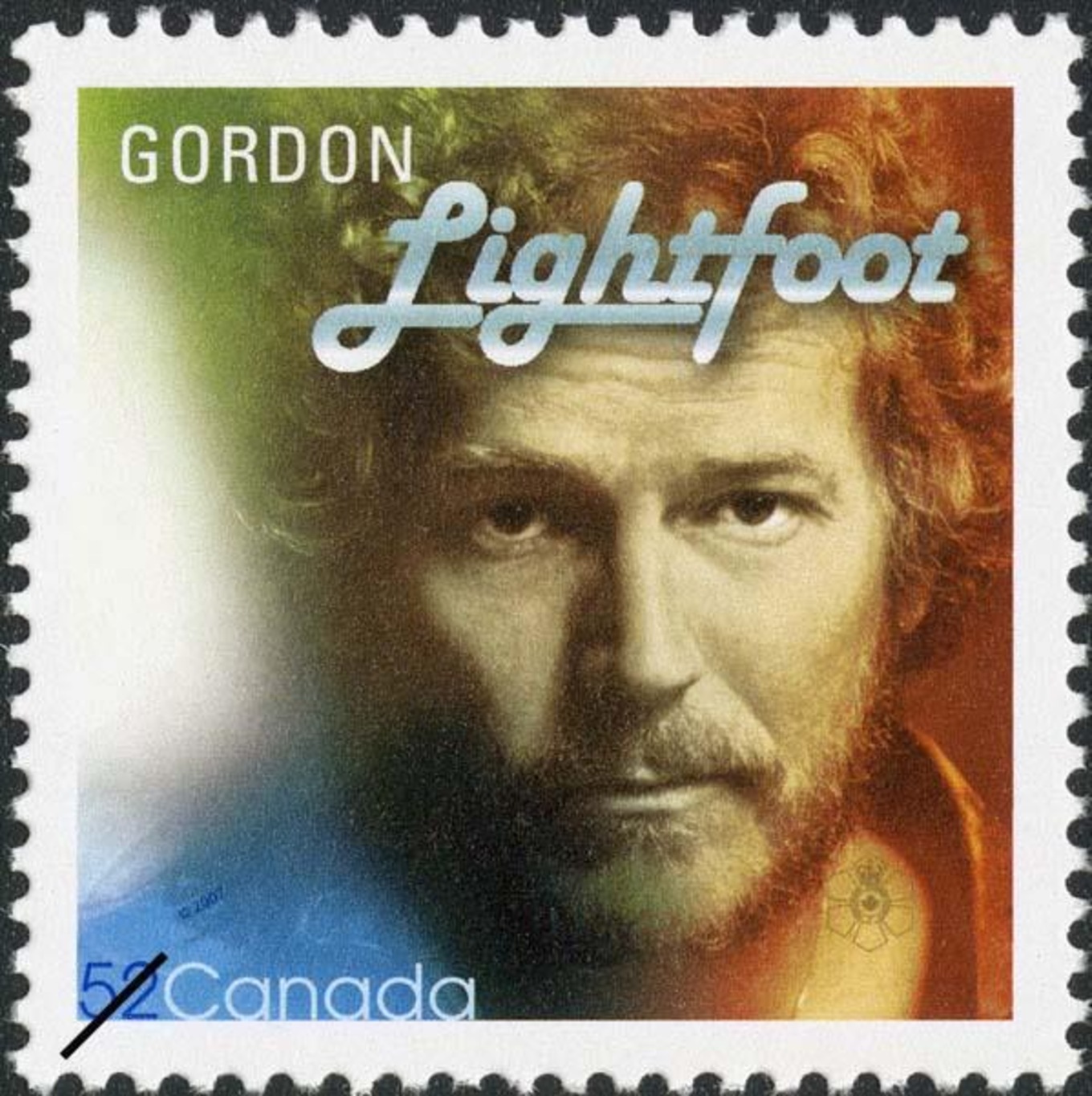 10. Lightfoot has called songwriting "15 per cent inspiration and 85 per cent perspiration," telling the Montrealer in 2010: "I will stand by that — it's hard work. Writing is a solitary process, and it can be exciting and draining at the same time. I wrote songs under contract for 33 years, and now I can relax a little and focus on our performances."
Related:
Look back at Gordon Lightfoot's early days as a 'famous country dancer'
The Strombo Show: Gordon Lightfoot and Braids
From Neil Young to Joni Mitchell: artist Gary Burden on 10 of his most famous album covers