A debut with the Orchestre symphonique de Montréal (OSM) is a milestone for any musician. On Jan. 16, Carter Johnson made his in emphatic form, playing Prokofiev's Piano Concerto No. 3 under the direction of guest conductor David Robertson.
Johnson, a 22-year-old pianist from Vancouver, won the grand prize and first prize in the senior piano division of the OSM Manulife Competition in November, and part of his prize package was this solo engagement with the OSM.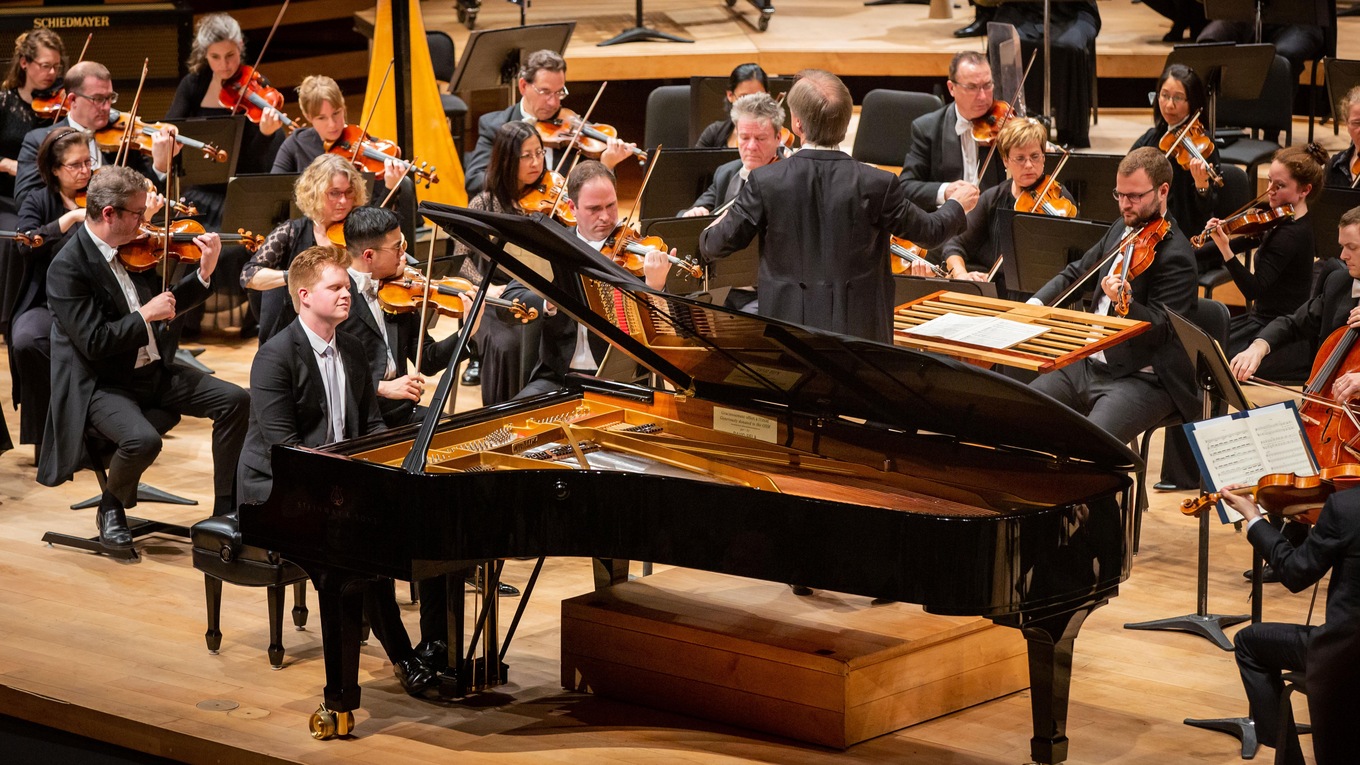 This was not Johnson's first concerto performance in Montreal's Maison Symphonique. On July 9, 2018, he played the third movement of Prokofiev's Piano Concerto No. 3 with the Orchestre Métropolitain at the gala concert following his first prize in the Stepping Stone final of the Canadian Music Competition, an accomplishment that secured him a spot on CBC Music's annual classical "30 under 30" list.
"It's perfect," he says, describing the renowned concert hall's ambience.
The OSM's Jan. 16 concert began with a meticulous reading of Ravel's Mother Goose Suite, with conductor Robertson exploiting the hall's acoustics with some hair-raising pianissimos and gorgeous orchestral solos.
Ravel's suite, originally composed as a set of piano duets for children to play, was an apt prelude: While Johnson was waiting in the wings, his one-year-old son Preston was being watched backstage by an OSM volunteer.
Anticipation was palpable as Johnson walked onstage, the audience fully aware that this was a big moment for the young pianist. It was clear from the concerto's iconic, toccata-like piano entry that Johnson would deliver a secure, exciting performance, his urgent body language and subtle facial gestures revealing a true appreciation of — and immersion in — the score.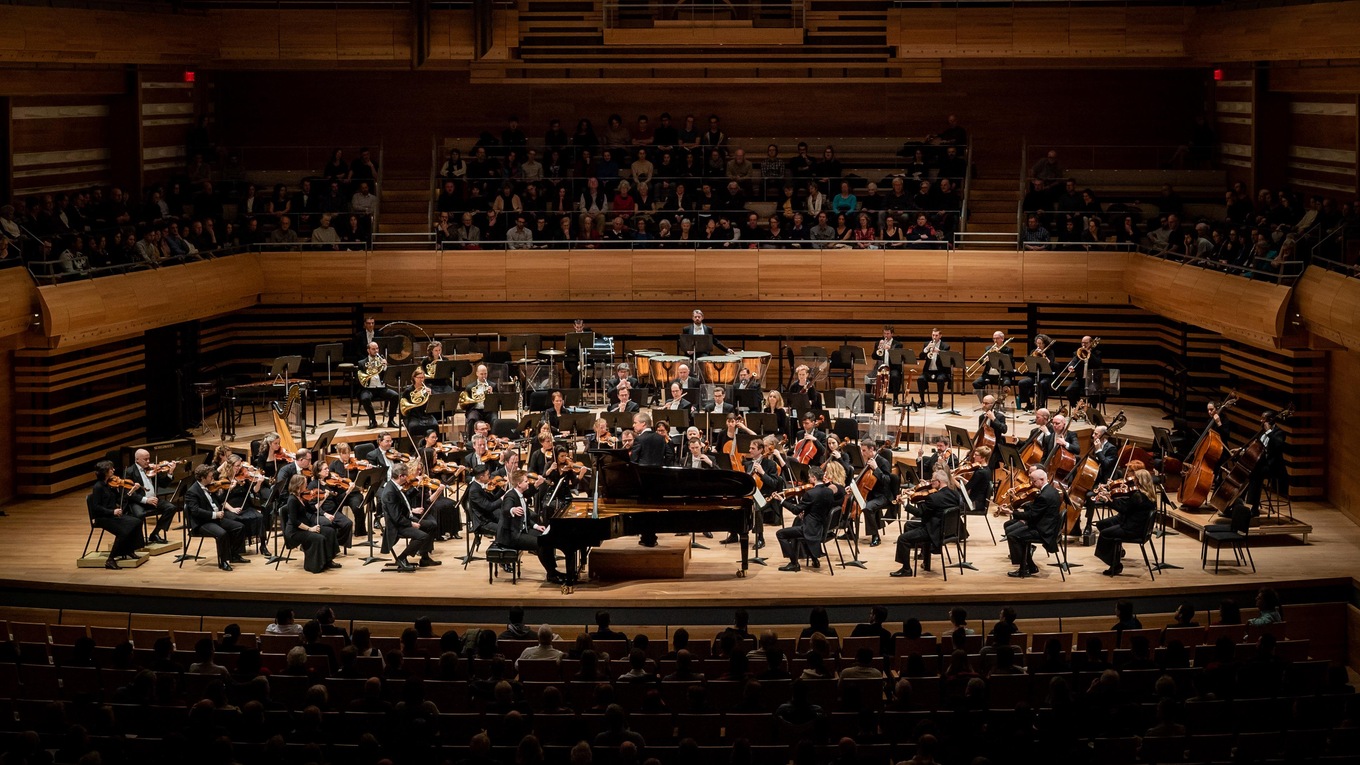 "Before this week, I expected that I would be constantly overwhelmed by the beauty of the OSM's playing," Johnson told us following his performance, which got a standing ovation. "But actually, while that was often true, I just as often found myself not noticing them at all — I think that's a mark of masterful concerto playing. With less superb orchestras there can be frequent distractions, but the OSM left me free to play exactly the way I wanted to play."
Johnson had two rehearsals with the orchestra the day before the concert, in addition to a one-on-one rehearsal with conductor Robertson. Their collaboration was evidently a happy one.
"I found him an extremely kind person and I liked him a lot," Johnson reflected. "He had a few great suggestions for me (I took them), and his approach to bringing them up to me was admirable — some conductors are not quite so gentle about sharing their opinion."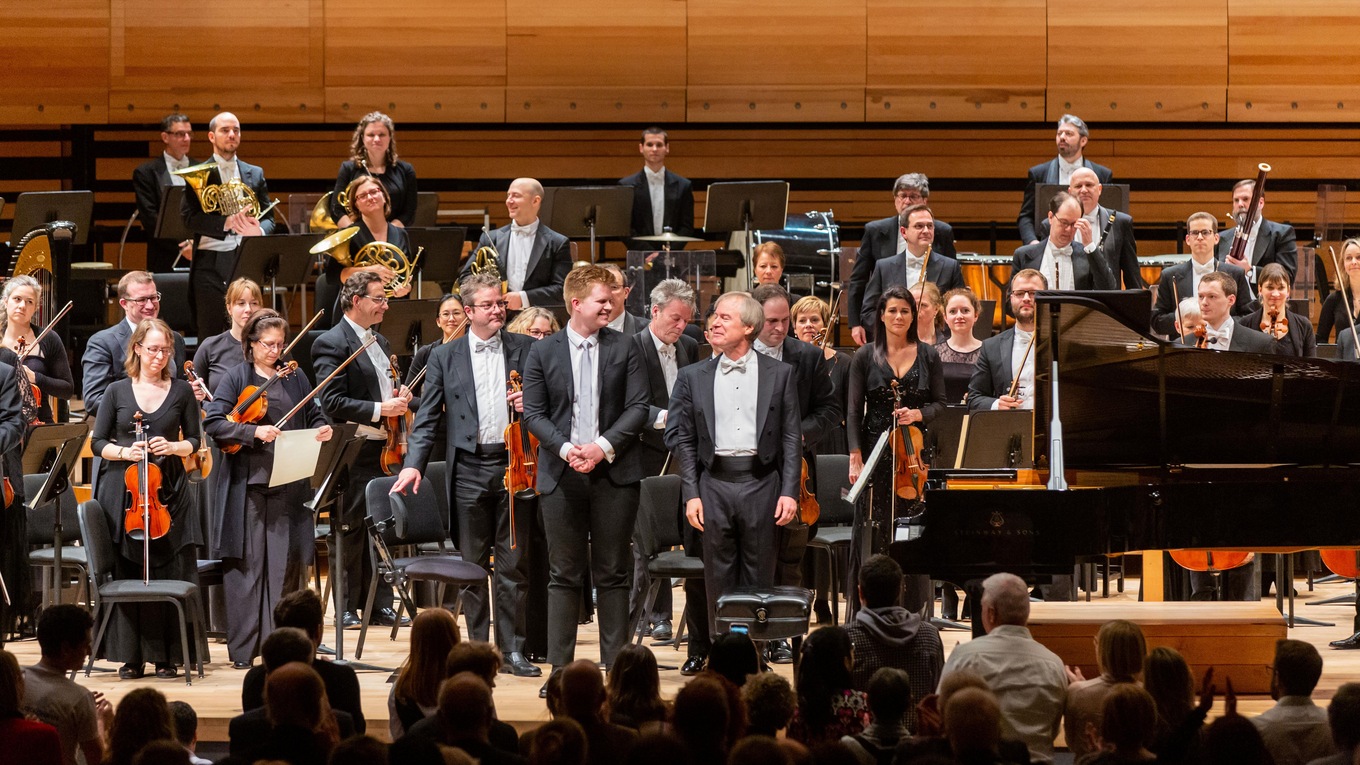 At intermission, the OSM hosted a reception for Johnson, where he was greeted by fans, friends, and his wife, Hannah — "she's always my favourite audience member."
He posed for a photo with Richard Payette, president and CEO of Manulife Quebec, and Charles Milliard, co-president of the OSM Manulife Competition.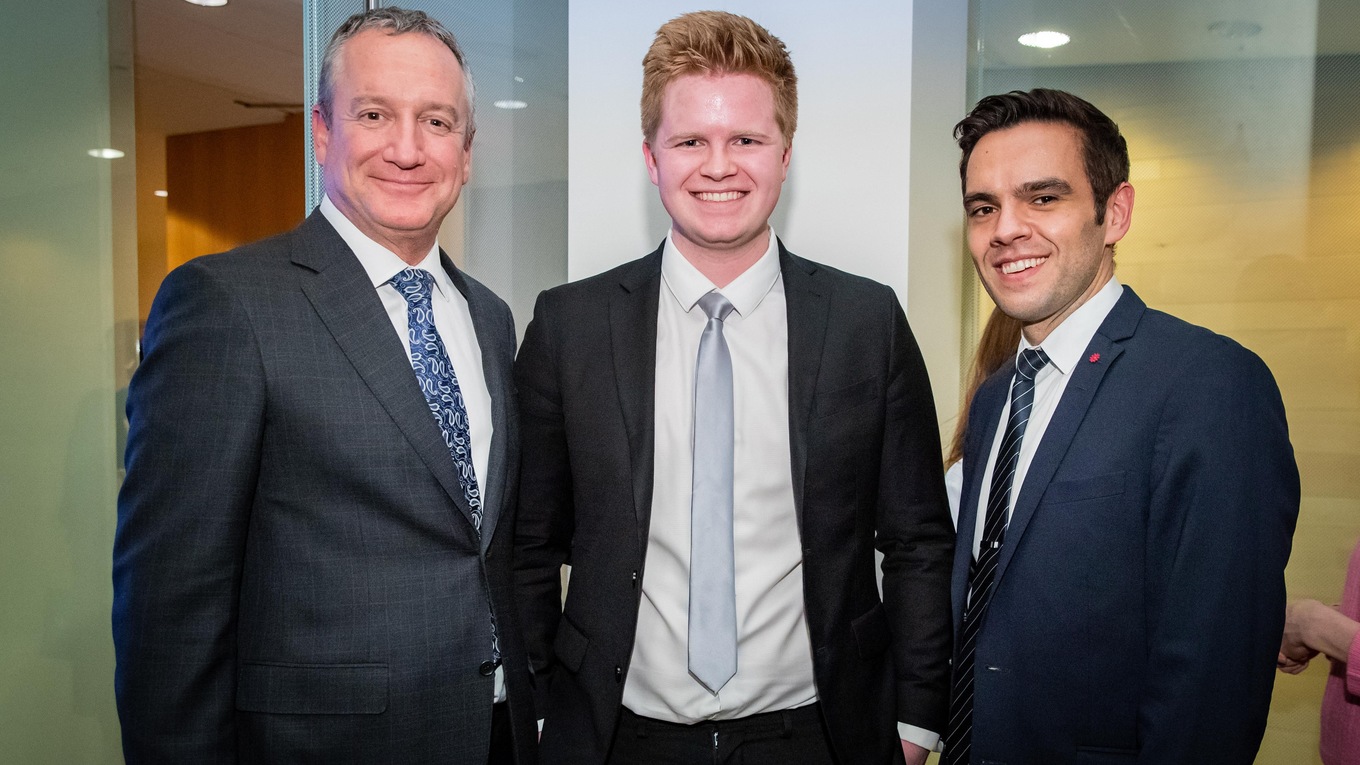 The second half of the evening's concert featured Mahler's Symphony No. 4 with soprano soloist Hélène Guilmette.
Upcoming performances for Johnson include Schumann's Piano Concerto in A Minor with the Vancouver Island Symphony Orchestra on Feb. 16 (details here), and a concert of chamber music by Mozart, Mahler and Fauré for the Vancouver Chamber Music Society on April 17 (details here).
Related:
Watch Gryphon Trio play Mozart, Haydn and Piazzolla
10 surprisingly good covers of Debussy's 'Clair de lune'
Essential Erik Satie: 10 pieces you should know
The world's favourite pieces for solo piano played by contemporary masters like Glenn Gould, Arthur Rubinstein, Angela Hewitt and Lang Lang. Hear: Beethoven Sonatas, Chopin Preludes and Etudes, Mozart Sonatas, Bach Suites and Partitas, Debussy Preludes and Suites, Rachmaninov Preludes and more!