Pianist Jarred Dunn, who was featured on the 2018 edition of CBC Music's annual list of 30 hot Canadian classical musicians under 30, recently spent a week at the Belgais Center for Arts in Portugal, a rural property belonging to pianist Maria João Pires. He took part in one of the workshops she holds there, whose purpose "is not only to perpetuate techniques and know-how, to sharpen sensitivities, but also to forge a personal relationship with music, which is inseparable from the role of the artist today."
By all accounts, these workshops are transformative. We invited Dunn to tell us about his experience.
---
My first exposure to Mozart's music was the 1993 recording of Maria João Pires with the Vienna Philharmonic playing the Piano Concerto in E-flat Major, K. 449, and the Piano Concerto in D Major, K. 537, conducted by Claudio Abbado. I spent many hours of my childhood and teens listening to Pires' recordings. They were part of the reason I wanted to be a pianist.

Recently, I spent seven days at Pires' farm in Portugal during a pivotal time in my career. After several successes, I find myself thinking over my career choice almost daily: I question how felicitous it really was (and is) to have pursued this career — the business of music is anathema to music itself. I've lived in cities since I began my studies, and Paris, Toronto, Katowice and New York are, naturally, nothing like Belgais where solitude is concerned. The week I spent in Belgais provided the atmosphere I needed to think things through.
Although music and piano-playing were approached in what looked like a masterclass, Pires dislikes the "masterclass" as musicians have come to understand it. According to her, masterclasses are unnatural: learning is not demonstrated by a "master" posturing above the "class," as though its members know very little. Ideally, student and teacher work together, each contributing their knoweldge and ideas, to discover new ways of making music without dismissal of the student as either inexperienced or ignorant. "Sometimes young people know better," she explains, "they offer ideas that liberate old rules and make new possibilities."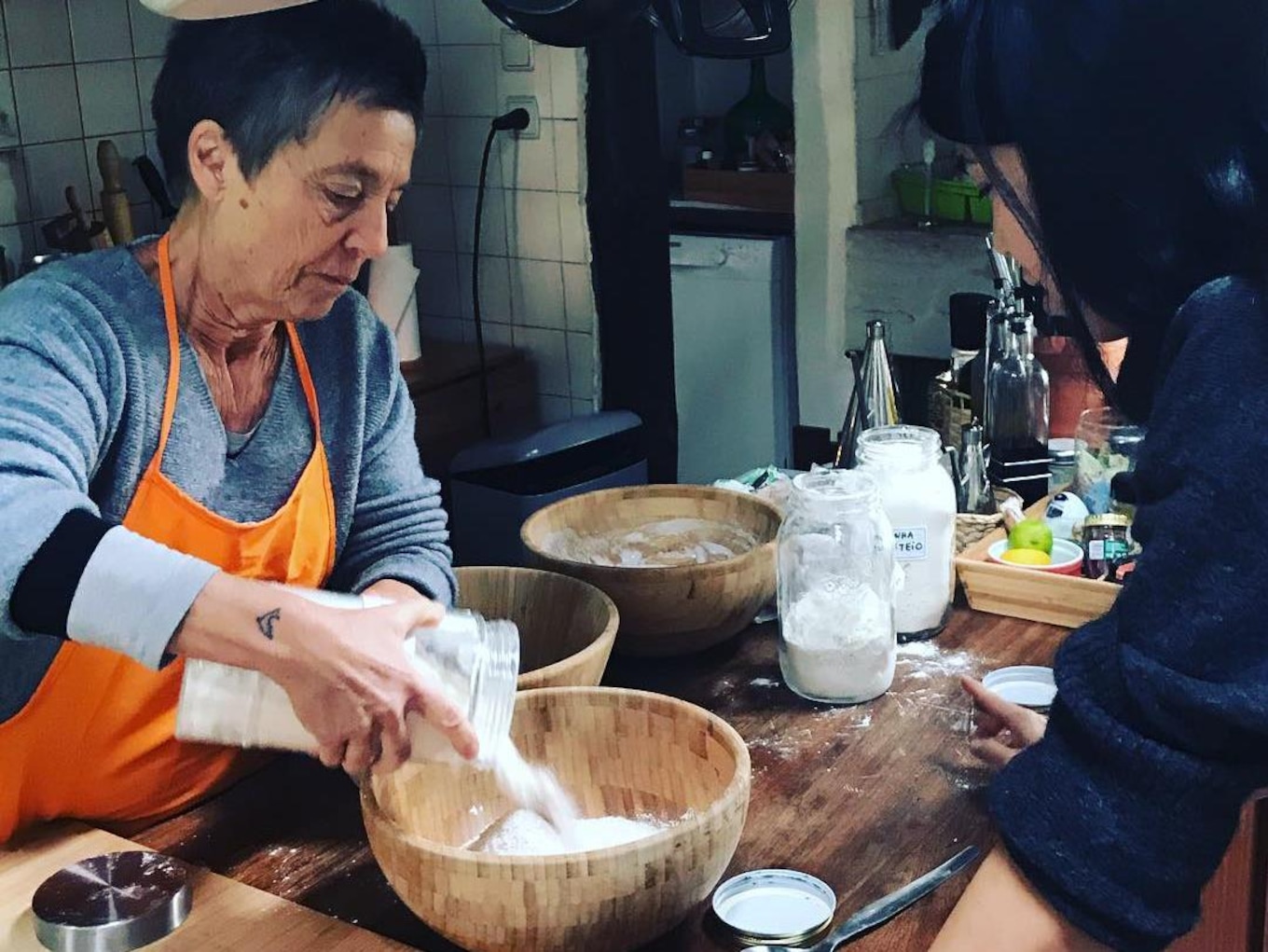 Pires prepares food with a workshop participant at the Belgais Center for the Arts in Portugal. (Jarred Dunn)
But how does Pires treat the concept of music education? Isn't there something of Pires' ideals that must be taken with a grain of salt? Among the many transmissions (as she calls them) that took place during my week at Belgais, five ideals about music-making (one is piano-specific) emerged as vital to my thoughts about musical careers, and educating oneself in the (tortuous) road that leads to them.
These words of Pires' are enough to offer guidance to any artists searching for their ideals:
1. Teaching must be done with a lot of respect
"To discover the world of music is to know the world of music is inside the world of art, and the world of art is inside humanity, and humanity is inside the universe. So music is a natural transmission of the universe: a universal transmission. It's where secrets appear, where things we don't know because we cannot know them intellectually or scientifically, appear suddenly. This is how I see art; so, inside this perspective, I don't see where teaching can come in; I don't want to be aggressive against teaching, but if teaching is done, it should be with a lot of respect and a lot of care.
"I don't call the real thing 'teaching;' there is too much confusion between generations. For example, 'It must be played exactly this way' because the older person knows better than the younger person — I don't believe that. If a younger musician comes to me and wants to become a musician, what do I have that is more than them? Years, and if my experience in those years was good, perhaps I can transmit those things I learned. But if my experience was wrong, perhaps this young person can transmit to me how pure and different it can be."
2. Pianists must understand their voices
"We learn to sing and breathe consciously, both in and with our bodies. The new piano technique — and it is a problem — is that pianists are taught that their hands and technique are the things that count. But without the body being used well, there is no sound. No body equals no sound. If we sing, we do not need excess rubato; if we don't sing we overuse rubato. A pianist must understand their voice, and know where it comes from. When you know your voice, you can come down in volume and intensity, but first comes using it openly; freely. We must use our voice to say something, we should not hide ourselves. With these in mind, there is much more to a pianist than a technique."
3. Ask yourself: 'What do I feel?'
"Freedom to explore comes first, formats and rules second. It is easier to bring order to freedom than it is to free a person caged by psychic or physical limits. The frames and organizational curricula that are imposed upon students through endless piano lessons in conservatories could be summarized thusly: 'Free yourself, then ask: what do I feel?' Once that question is pondered, art begins."
4. Ask yourself: 'Do I want music? Fame?'
"I don't know the way to become an artist. Competitions seem to pave a road for that, but there's no way. Things just happen, and if it is not supposed to happen for you as an artist you can fight like mad and it won't happen, even the thing you want most. We see many people winning famous competitions one after another and their career doesn't become what they want. I ask musicians constantly: What do you want? Music? Fame? They are philosophical questions but people don't like to think about them. It's harder for me to compete than to think about these real questions. It would be harder for me to compete also because, for me, to win it means someone else loses."
5. The score only provides 5 per cent of what the music is about
"By a liberal percentage, a score (the written musical text) provides five per cent of what the music is about. The remaining 95 per cent includes feelings that we experience through the sound (an unwritten phenomenon), exploration of the phrasing (another endless subjectivity), and freedom we experience when we play with only what is left by the composer's inspirations, rather than judging ourselves based on perceived technical limits. All that is useful to an aspiring artist is their observation."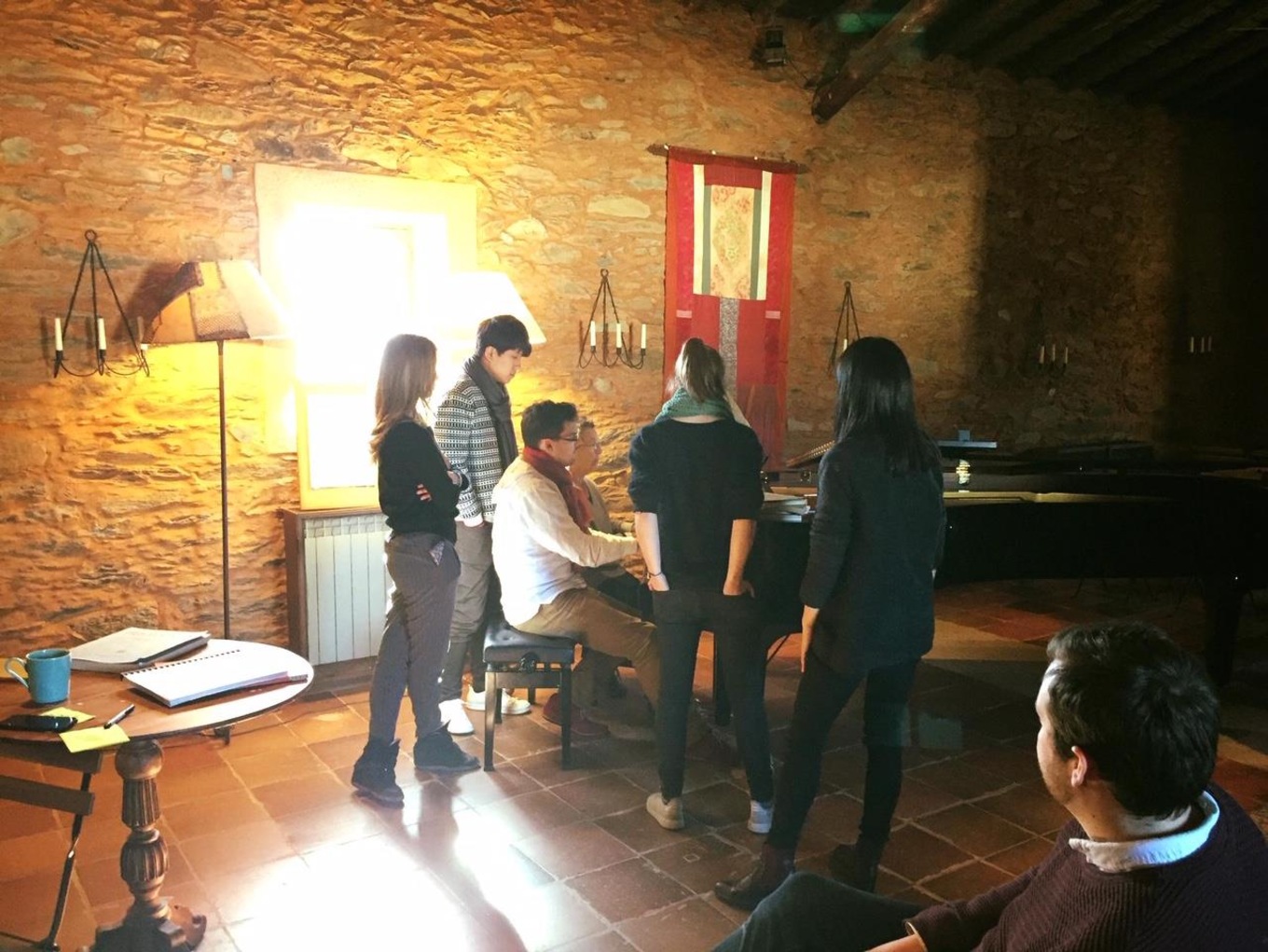 Dunn and Pires play Grieg's Peer Gynt Suite for workshop participants at the Belgais Center for the Arts. (Supplied by Jarred Dunn)
Related:
A guide to Tchaikovsky's Piano Concerto No. 1
10 surprisingly good covers of Debussy's 'Clair de lune'
Gymnopédie No. 1: watch pianist Jamie Parker play Satie